fun gifts!

Jonas' "fake" birthday party went pretty well. There were 8 kids there, I think, not including 2 babies who aren't yet mobile.
Somehow, when it came time to sing "Happy Birthday to You", he knew just what to do. He sang along, then clapped when it was over for about 3 seconds, then blew out the candle. It was so perfectly timed I felt like I was watching a movie. I have no idea how he knew how to do that.
My friend made this cake, not me.
He got a few nice gifts from his friends, including some finger paints that I am excited to use with him.
Later that night, I gave him his gift from my parents.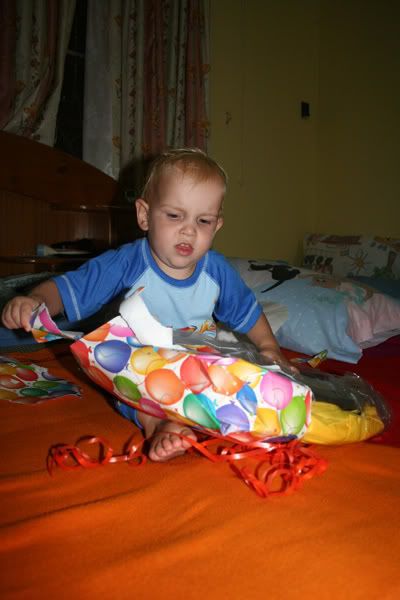 He is so serious and focused when he opens gifts. It kills me.
This was the school bus tent! I didn't really get a good picture of it yet, but he was so excited.
He and Monkey drove it. Then we called the babysitter in the room to come see it.
She was so excited, she got in herself. In the picture he is fetching yet another stuffed toy to "ride" the bus with him.
This morning when he woke up I said "Do you want to go play?" and he said "No". Then I asked "Do you want to go play with the bus?" and he said "yes".
Nick said that when Jonas got home from visiting a friend's house tonight (when i was at work) he walked around saying "Bus...are you?" (bus...where are you?" because we had folded it up and put it away.
He also got his Harold the Helicopter figure today from Grandmother, which is probably his second favorite gift of the year. He is so into planes and helicopters and things "flying in the sky".
Two of his friends have inflatable airplanes, and when we play at their houses, Jonas will put a stuffed toy on top of the airplane and pick it up and say "Bye, Mama!" and "fly" the toy away to another part of the room.
I hope tommorrow's party and the Mama-made cake turns out well!

Wednesday, Oct. 25, 2006 at 9:52 PM