Birthday and Bad Luck

The elephant cake turned out okay, but not as spectacular as last year's bear cake.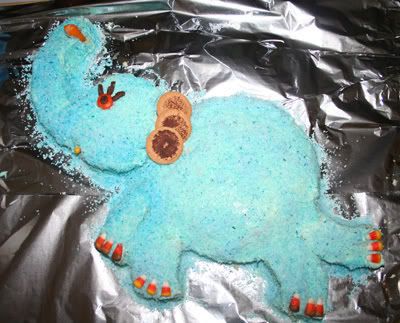 When we cut the cake, there were only like 6 people at the party. I guess I shouldn't have put "come anytime, leave anytime" on the invites. Otherwise I like having "come and go" parties because I can invite alot of people without having them over run my house.
Without sounding ungrateful, I would just like to explore the topic of "birthday gifts". I realize that most Lao people probably don't have alot of birthday parties in their lives, but some of the guests came up with strange ideas for appropriate gifts for a 2-year-old. One person gave him a ceramic vase. One person gave him a huge pack of 25 packages of chocolate wafer cookies and 4 juice boxes of soy milk. One person gave him some sour candy and gummy fish. One person gave ME a present, which was a traditional head covering from a minority tribe. Another person gave cookies as well. Only 3 of the presents were actually things that Jonas could play with: 1 plastic truck, 1 inflatable float for the pool, and 1 DVD, Big Bird Goes to China. I love that one!
Before the party, my mother-in-law gave Jonas the Harold Helicopter she brought.
This is why I have a hard time not buying him things. His enjoyment and delight are SO GENUINE. It warms my heart.
The next day, I had Nick take "Grandmother" to the market to get Jonas a toy guitar we had been wanting for him.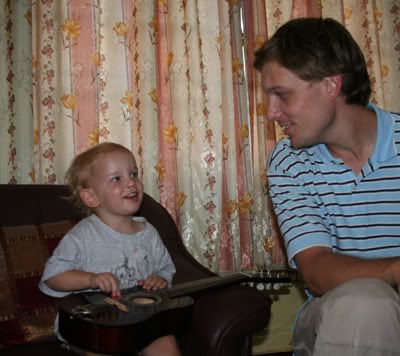 Nick plays the guitar sometimes, and Jonas likes to "help" him. His favorite thing is strumming it a few times and then dropping the pick into the hole. Then he says "uh-oh!".
************
This weekend has been a little crazy. We went out of town to show my Mother-in-Law some fun things to do. About 30 minutes after we left the house, our babysitter (who lives in our house) called and said her husband had taken Nick's motorbike and left. She told him not to and he hit her (with shoes?). He has "borrowed" the motorbike before. Whenever he does so, he goes on long drinking binges and doesn't come home for days at a time. Last time, Nick told him he couldn't borrow it anymore.
We went out of town anyway, because he was already gone, all we could do was wait for him to come back.
When we came home the next afternoon (we were only gone for like 30 hours), he still wasn't back. Our babysitter, Von, said that her dad was having his appendix removed at her hometown the next day, and she wanted to go be with him (it is only about an hour away). She was still distraught about the whole motorbike incident. She talked to me alot and cried. I don't really know what all she said (she was speaking Lao and crying; it is hard to understand when someone is crying). She told me about the shoe-hitting thing and about how she was worried about when we go back to the states in April for my brother's wedding, she was afraid her husband will steal the motorbike again. I think she also said that a girl called and Von answered, and the girl asked for Von's husband. So apparently he might be running around on her as well. They have only been married for about 2 years, but he is a divorce' with a 4-year-old son in some other village. I always kind of wondered if Von might have been "the other woman" back then. She is so sweet, I can't think ill of her. But I always wonder.
Anyway, we all went to sleep around 10, and I guess her husband came back sometime during the night, because the motorbike was in the driveway in the morning. Von went to the bus station before I woke up, to go see her dad. Nick took the motorbike to go teach, but was back within about 30 minutes. He had barely left the house when he was hit by another motorbike. He wasn't severely injured, but had alot of scrapes and bleeding on the right side of his body. He came home to get cleaned up and elected not to go to school after all.
The thing that irritates me is that in Laos there is an unspoken rule for traffic accidents: It is always the foreigner's fault.
It drives me crazy. It was totally the other man's fault, and Nick was the only one who got hurt, yet Nick had to give the perp. $5. The system here is so broken and corrupt. There is no incentive to be honest or just. I love Laos and I feel sad that there is seemingly no hope for life her to improve, as long as everyone with any kind of power is only looking out for his or her personal intrests.

Monday, Oct. 30, 2006 at 9:56 AM