I just can't wait

I have always found it difficult to wait for things to happen. For example, since I was about 14 years old, my family has always given into temptation and opened all of our Christmas gifts on Christmas Eve. Then on Christmas Day we would go to the movies because we had nothing to do.
Nick's mother will be arriving tommorrow, laden with gifts for Jonas. Some of them are ones that I picked out for him that my parents paid for from Amazon.com (I love my new Amazon.com Visa card!).
So, even though J's birthday isn't until WEDNESDAY, and he is having a party on TUESDAY, Nick and I decided to have a little "family celebration" with just the 3 of us tonight. I made dinner and we all ate at the table (doesn't always happen that way, we usually eat on the couch). I put the plastic Thomas the Tank Engine party table cloth on the table. For dinner was pasta, tomato sauce, hash browns, and corn bread. We stuck a candle in Jonas' hash browns and we all 3 sang "Happy Birthday" together. He blew the candle out right on cue! Then he asked to do "happy" again, so we did it all over, maybe 2 times, I forget. At any rate, he got some good practice for his party performances later in the week.
We also gave him his gift from us. I wrapped it in Blues Clues wrapping paper that I brought from the US just for his birthday.
He concentrated while he tore away the paper slowly, and then when he saw the gift inside his face lit up.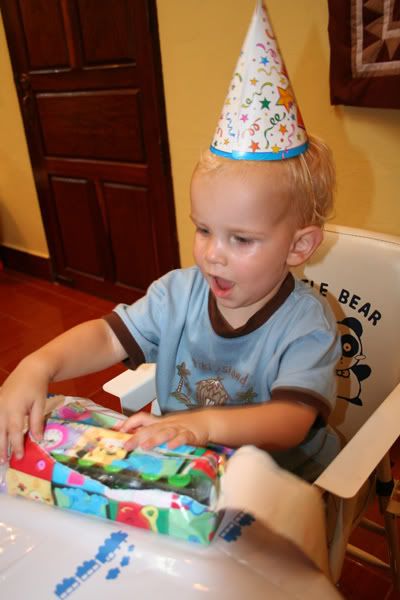 It is a "Henry" train from Thomas and Friends.
That is really the first present he has ever opened all by himself, without us having to show him what to do with it. Although he did ask for help from Nick. And Nick had to get the train out of the actual package.
I think this is a fun age because toddlers are so amazed and enchanted by everything. He is happy most of the time. And he hasn't really learned how to complain very much yet.


This isn't really related to the entry, but last night when I was getting ready for bed there was a HUGE roach on my toiletry bag. It freaked me out so that I left the bathroom light on all night. I wasn't brave enough to try to kill it.



Sunday, Oct. 22, 2006 at 11:06 PM