You Animals!

We are back home in Laos now! It is kind of overwhelming to try to summarize a months worth of travels in a little journal entry (that you actually want to read), so I decided to just to a photo theme. The theme is "Jonas and animals".
We got to do alot of neat stuff in Chiang Mai, Thailand.
On our first few days there, we went to the zoo. The first thing we did was feed raw string beans to a giraffe.






Then, much later in the zoo, we got to feed raw string beans to some deer.






This is a picture of Jonas feeding bananas to the elephants at the show we went to after our horrible virus episode.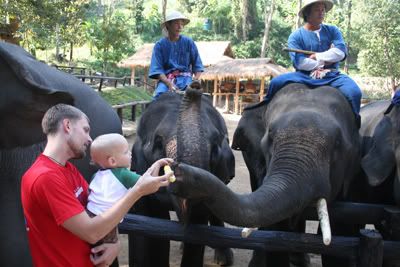 Finally, when we got home yesterday, our neighbors had two new puppies! Jonas loves to play with them. They are so sweet not to bite him.






It's good to be back!





Saturday, Feb. 11, 2006 at 8:32 PM