He's Here!!!

On August 15th, 2007, 4:11 AM, Deacon Elliot was born!
8 lbs, 11.2 oz, and 21 inches long.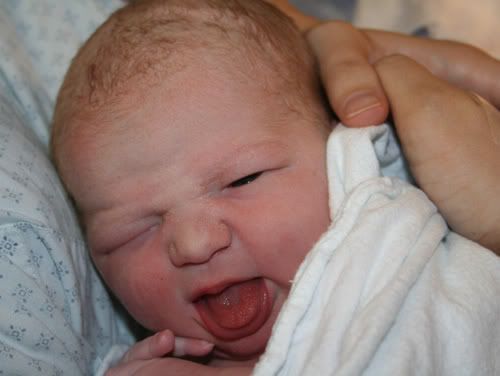 It was one wild ride for me. I had a natural childbirth...not by choice!
I was starting to get discouraged about Deacon arriving on time, but on Tuesday August 14th I lost "the plug" in the late morning before I went to go pick up Jonas from his last day of preschool. I spent the rest of the day worrying that my water was going to break at an embarrassing moment. I also felt like I had the flu...tired, achy, I even felt feverish but I never had a temperature.
I started to have cramps...kind of like a bad PMS. I thought they might be contractions but they didn't have a definite beginning and ending point where I would be able to time them.
I took a bath and tried to relax. I started really having some pain after I put Jonas to bed. I tried to read in bed but the pain was distracting, so I got up and did this and that. Finally by about 12 midnight I had given up on trying to sleep. The pain/ cramping had spread into my thighs, so I knew something birth related had to be going on. Part of me was waiting for my water to break, because that was my first sign of labor with Jonas.
So finally I decided that I wanted to go to the hospital, just to make sure I wasn't really in labor. I woke Nick up and off we went. Even though it was about 12:30 at night he wanted to stop at McDonald's for a milkshake. I found that slightly irritating, but I didn't say anything because I felt irritated in general. So we finally got to the hospital around 12:50, parked in a badly marked "in labor only" parking spot and then had to walk a REALLY LONG WAY to get to the actual evaluation unit. Then after I signed in I had to wait in the waiting room for like 20 minutes. I passed the time by going to the bathroom.
Finally I got in to the evaluation area, and they took my vitals and then I waited over an hour for someone official to come check me. I watched TV and went to the bathroom like 5 times. Whoever was in the room next door was moaning like a cow and crying and generally creating a spooky atmosphere.
Finally when they checked me I was 4.75 cm. I was super uncomfortable at this point. I had decided I didn't want an epidural, but I told them I wanted other forms of pain relief. They told me of a magical Demoral shot they could put in my IV and I said I wanted it ASAP.
They took me upstairs to Labor and Delivery and then left me alone for another long time. I was waiting for the pain relief medication and the pain was getting more unbearable. Finally I decided I DID want an epidural. The epidural person was supposed to be comming anyway to PREP me just in case I needed emergency c-section or something like that. The pain got really bad and I was suddenly aware that my body was actually pushing. I rang the call button for the nurse and said in a weak, panicked voice, "I'm feeling the urge to push!"
Nurses came in and checked me...I had gone to 10 cm in about 20-30 minutes, since they checked me at almost 5 cm. The nurse said, "Looks like we are having a natural childbirth!" Hearing that kind of made me want to throw up, but I knew I didn't have a choice at that point.
They started telling me to stop pushing, but it wasn't something I could control. It was like telling someone to stop vomiting or having diareah...when your body decides it is time to get rid of that stuff, your body just DOES it. The nurse broke my water and that brought some relief. I think I pushed about 3 or 4 times with their coaching (not counting the pushes they didn't want me to do before hand...I think they were trying to wait for a doctor). Deacon came into the world and I didn't get to see him very much. They took him over to the side and put him under the heat lamp and started checking him. I was able to nurse him before they gave him a bath. I was really distracted and uncomfortable because they were doing my stitches, which seemed to take forever. About 2 minutes before Deacon was born, they finally gave me the Demoral in my IV, so I was feeling much more relaxed during the stiches.
I wouldn't have chosen a natural birth, but my recovery time was way faster than with my birth experience with Jonas. With him I had epidural, pitocin, and they gave me magnesium, I think for high blood pressure (which I didn't have)! It took me 3 days to be able to stand up without fainting. But this time, I was able to walk to the bathroom unassisted, and I even took a shower that night. I don't feel as overwhelmed and emotional as I did when Jonas was born either.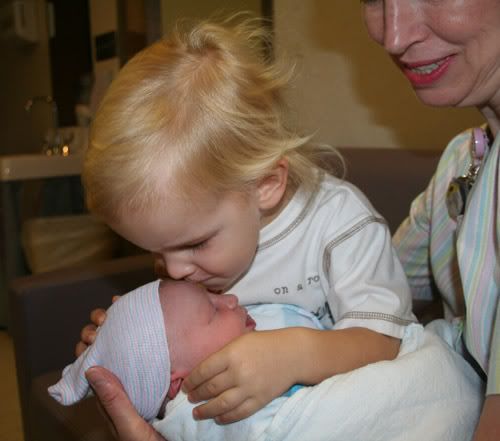 Jonas is so proud to be a big brother. He talkes about "my Deacon". He has had a couple of emotional moments when something hasn't gone his way. He walks away muttering, "Poor Jojo, Poor Jojo," with tears in his eyes. I think the main reason is that Nick has started working nights at the restaurant, so on top of having the new baby, Jonas is being deprived of Papa time. I hope it will improve as Nick tweeks his schedule. We need him around at bedtime!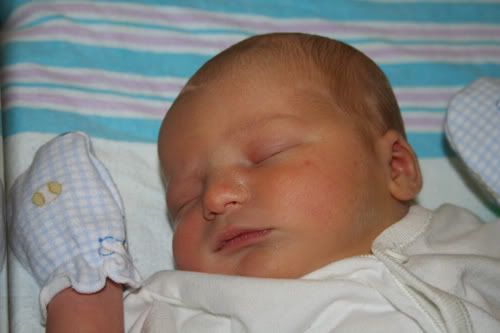 Deacon has darker hair than Jonas did at birth. So I thought it was funny when one of my Asian friends visited us in the hospital and said, "Look how blond he is!" then her husband said, "That's a white baby alright!" They had a baby like 2 months ago with of course black hair and dark skin, because they are Southeast Asian. I was amused that my child who is our "dark one in the family" is still so white in their eyes. Tee-hee!

Sunday, Aug. 19, 2007 at 9:49 AM