little Amish outfit

My little man all dressed up to go to a work related party with me. He is holding a new musical plastic baseball that my mom sent him for his upcomming birthday. She also sent the shoes that he is wearing.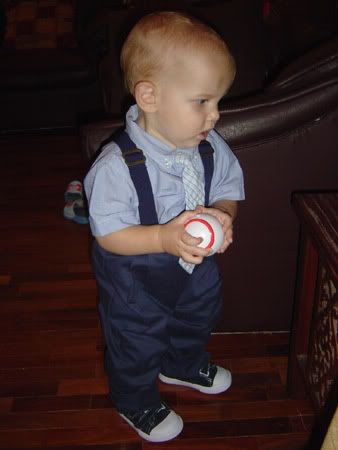 Here he is on the "dance floor" before the singer arrived. The party was at an outdoor beer garden. It was in honor of "teacher's day", which was actually a week ago, but it took the school a little longer to plan the party.
We still got our free food and drinks, so ain't no thang.
Today we went on a shopping extravaganza. At one point he was playing with the shopping cart, kind of pushing it, and then he was holding on with one hand and tripped, which caused his body to flip to the side and his face slammed into the bottom of the shopping cart. He cried for a minute but recovered quickly, and then like 5 minutes later I noticed his eyelid was bleeding. I showed one of the clerks to ask her if she had a tissue (remember we are in Thailand, my Thai skills are kind of shabby) and she said (in English) "Oh! My got!" (that is what it sounded like). Luckily this store happened to have its very own nurse and infirmary (I was surprised...it was like a secret doctors office in the back of a Wal-Mart!) and we went back there and the nurse cleaned it off with q-tips and disinfectant. It was just a scratch and not a cut. I was glad because I get queasy about stuff like that. I had a friend who had her eyelid cut in two from a fall and she had to get stitches in it. Ewwie.
ckb


Wednesday, Oct. 19, 2005 at 9:20 PM