Come into my World

I decided to share some pictures of things in my world that don't exist in the US of A.






Question: why WOULDN'T you want to eat Lerry's Cornflakes? Just look at Lerry! This is the breakfast of champions, to be sure.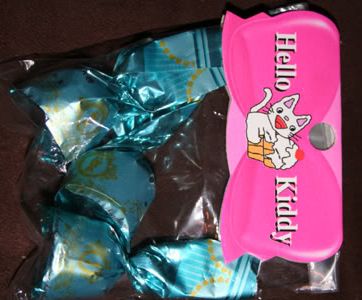 Hello, Kiddy! I think she is a distant cousin of you-know-who. This candy was given to us by some workers in a mini-market. It is gross candy. They actually gave it to Jonas because he is cute.
.....
Nick broke our 3 presents rule for Jonas and went and bought him a little bicycle today. So that means we are giving him:
1) a pack of large plastic tigers
2) a little wooden train (just a pull toy, not one of those huge Brio things with tracks and all)
3) a wooden shape sorter
4) a little bike
We will give them to him on Christmas Eve! Nick and I didn't buy gifts for each other this year (mostly out of laziness), so giving Jonas his gifts is what I am looking forward to the most!





Friday, Dec. 23, 2005 at 8:56 PM