2005 in Review

I just realized a couple of days ago that this year is almost over. It seemed like it went by really fast, but at the same time Jonas changed so dramaticly in just one year, it seems like a long time somehow.
I wrote a "Christmas Letter" to our family and friends summarizing what we did all year.
January 2005
In January, we traveled to Chiang Mai, Thailand to take classes from professors sent by Lee University of Cleveland, TN. We learned about philosophy and student assessment.
At the end of February, we returned to Laos and began teaching the 2nd Semester.
These are some of our students when we went on a field trip to the English language newspaper.
In March, we purchased a 2nd hand car called the Honda Jazz. That's me and Jonas on the far right.
April 2005
In April, i celebrated my 25th birthday. Laos celebrated their Lao New Year. During the New Year festivities, we traveled to the north of Laos to a city called Luang Prabang. It is the former Royal Capital of Laos and a current UNESCO World Heritage Site. Besides site seeing and participating in traditional New Year parties with our students, we also both got to participate in a fashion show for a festival at a CMA silk farm.
Jonas went swimming for the first time
May 2005
April and May are the hottest months of the year in Laos. We tried to frequent a local pool to stay cool, but there is little escape from 109 degree temperatures.
In May, Nick celebrated his 28th birthday. We found out that the car we bought in March was stolen property, and so returned it to the dealership. As of this writing, we are still car less.
Jonas got his first tooth.
June 2005
Jonas said his first word: bye bye.
It is still his only word to date.
Second semester ended, we gave our final exams and returned to the U.S. on June 21st. The flight was long, and Jonas got a fever the night before departure. (Babyís first sickness!)
Before we left, the jasmine flowers were in bloom. I made Jonas model them.
July 2005
In July we took classes towards our Masterís degrees at Lee University.
On July 30, Nickís father passed away after a 4 year battle with cancer. We were so blessed to be able to spend his last days on Earth with him.
This is a picture of Jonas and Poppy together when Jonas was 1 month old.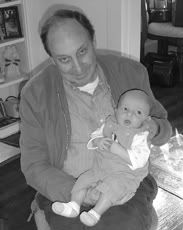 August 2005
We spent most of August visiting with my parents and our various mutual friends.
I ran in a 5K race and managed to come in second to last.
Jonas slept through the night most of the month of August.

September 2005
A few days before we left America, Jonas took his first steps.
We arrived back in Laos on September 12th and spent the following two weeks training new teammates and studying Lao language.
Jonas forgot how to sleep through the night and hasn't done so since.
Jonas contracts bronchitis/walking pneumonia which causes us to make an emergency trip to Bangkok to visit the International Hospital for 4 days (outpatient).

October 2005
Teaching is in full swing.
Jonas celebrated his FIRST BIRTHDAY on October 25th. We celebrated with a huge party with over 100 guests! We invited our students and everyone we knew! It was a fun and crazy day.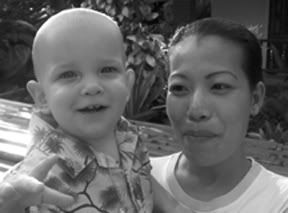 November 2005
We celebrated American Thanksgiving with 6 Lao friends and 2 American friends. I made a Tofu Turkey and it was a big hit. Everyone said it tasted like real turkey! Other feast items included sweet potato casserole and pumpkin pie!

December 2005
We donít get any vacation days for Christmas, but we have decorated our house for the holidays and plan on having a Christmas party for our Lao colleagues at school.
So...kind of sad how you can sum up one year that seemed so busy and crammed full of activity into a few skimpy sentances. I don't really feel like I accomplished much this year, yet I also don't know how I could have fit in anything else. Such is life, I suppose.

Sunday, Dec. 11, 2005 at 4:49 PM