Fat Mama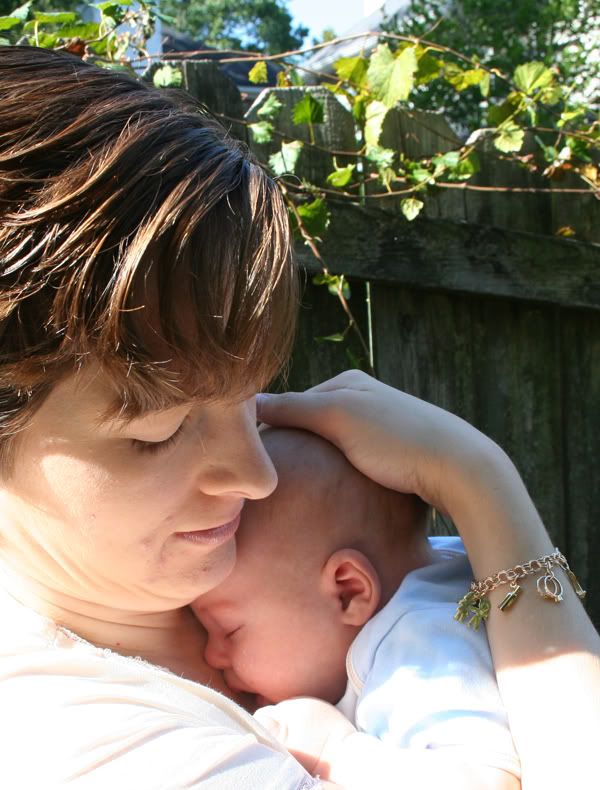 It's been a while since I updated.
Last week I had my 6 week postpartum exam. Afterwards I talked to the nutritionist about getting on WIC as a breastfeeding mother. When she was filling out my information, she said, "If you weighed two more pounds, I could have marked you down as overweight!"
She said this in a "Isn't that funny?!" tone of voice. It ticked me off because I already feel like crap for not being able to fit into my clothes. Then a few days later I was trying to squeeze into some jeans and the belt loop broke as I was trying to pull them up. It made me want to put my pj's back on and never leave the house.
Deacon is sleeping great...I think it was last Saturday night he slept from 10pm until 5 a.m. The next day he slept from 7:30 pm until 1 a.m., which wasn't quite as awesome since I wasn't asleep during most of that, but still a nice long stretch for such a young baby.
He has been sleeping from about 10 until 3. That is his usual "routine". He is giving me such hope, as Jonas was still waking up like 5 times a night long after he could walk. The upside of that was I was a lot skinnier because I had no time to eat or sleep.
I am enjoying working at the church daycare 4 mornings per week. It keeps me busy but it is nice to be able to talk to other humans and care for my baby at the same time.
Today I went to this huge baby expo called "Babypalooza" and scored a lot of nice samples. I didn't win the $3,000 prize package they had a drawing for though. It was called a "baby shower" and it was pretty much anything you could think of related to a new baby, like a $600 super deluxe stroller and a $350 gift card to Babies R Us, among other things. A pretty sweet prize package.
Nick has been working all of the time. I never see him. On Friday, Jonas doesn't have preschool and I don't have to work either. When Nick left for work on Friday morning, Jonas cried for him for something like 38 minutes. Of course Deacon was also crying for about 20 of those minutes, but he eventually cried himself to sleep when I had to go outside chasing after Jonas when he ran out the door and stood in the yard saying "PAPA! PAPA!". I was pretty sure the neighbors would call DHR or something. I can't imagine doing that 5 days a week like some SAHM's have to do. Jonas goes to preschool from 9-1 on Tuesday, Wednesday, Thursday, and on Mondays he comes to work with me in the nursery. So Friday is our only "fend for ourselves day".

Saturday, Oct. 06, 2007 at 9:45 PM