still hanging in there

I really have been meaning to update. Holli motivated me by leaving a sort of "are you okay?" message on myspace.
I AM okay. My back has been hurting a lot and I am walking with a limp because of it, but whenever I mention it at my doctor appointments, they just say, "Well, that's normal." Okay so it's normal, but it hurts.
I am 35 weeks now, for those of you who know what that means. Here is a picture from about 32 weeks. Behold the girth:
Jonas has been enjoying his school. The summer program ends on August 14th. My latest due date is August 15th. Hopefully I can have the baby around August 5th (I was about 10 days early with Jonas) and that can give me some time with the baby while he is in school. He won't have any kind of preschool from August 14th until after Labor Day, when he will go 3 mornings per week.
Here are some pictures from the beach trip in June.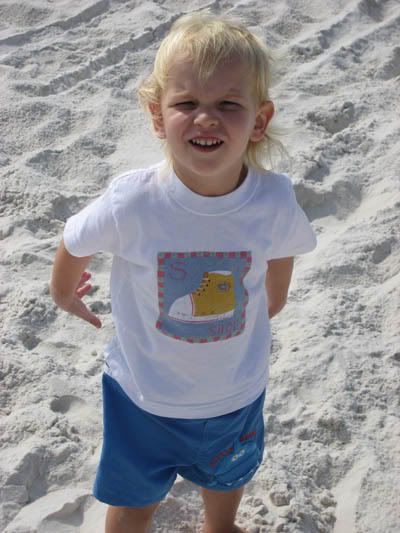 I have been working 2 nights per week in a church nursery (not the same one I originally interviewed for), and in September I am going to keep nursery four mornings per week as well (8:30-11:30). I will be allowed to have the baby with me. I'm wondering if I will be able to handle keeping a nursery and taking care of a newborn. In a way it might be good because I will be around other women and maybe they can help me if I am having a newborn breakdown. But I also wonder if it will be overwhelming at times.
Nick finally came home on June 23rd. We made him a father's day, birthday, welcome home cake when he arrived.
He and Jonas both have long hair now.
Well, that is the best I can do for an update at the moment. I really need to do some cleaning and organizing today. We washed all the newborn clothes this weekend. Now everything is all over the place.

Monday, Jul. 16, 2007 at 7:34 AM