Christmas Recap

I went through my Christmas pictures today and realized that I hadn't taken very many. I don't have any pictures of Jonas opening his "big" gifts, which was a Bertie the Bus and a battery powered "Lady" Engine. Not really "big" gifts but the ones I knew he would be most excited about. I guess I did more video than still pictures. We just got a new video camera after battling with a broken one that was less than 2 years old. It was going to cost more to repair the thing than it did to replace it with a new one. That is an example of a "throw away society". If Sony wanted to, they could make their video cameras inexpensive to repair.
On to the pictures:
This is Wednesday, December 20th. We got a package from my parents. My mom sent Jonas a Playmobile Nativity set. I like Playmobile. I had to hide some of the small parts from him just because I didn't want them to get lost. They have really detailed accessories.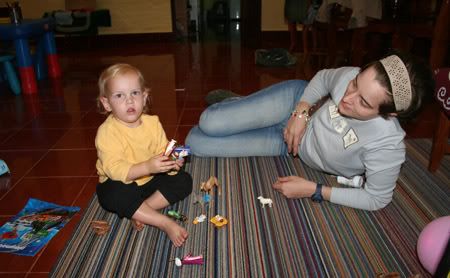 Next we have Sunday, December 24th. Jonas was looking all cute in a sweater he wore to church. I wanted to capture it because we only have sweater weather for about 10 days out of the year. I'm not sure why even though I took 5 pictures, none of them came out looking as cute as he actually looked in real life. In fact this one is a little scary. He has a crust-stache.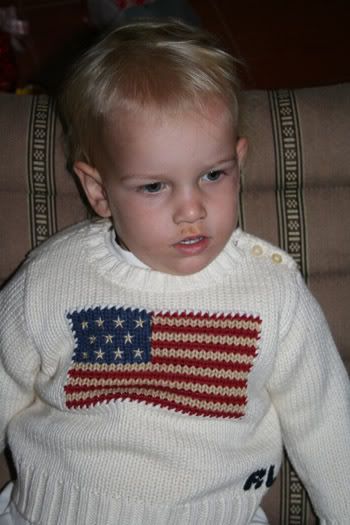 Now we have Christmas morning. This is the only gift I got a picture of (I'm such a bad mother!)AND he has on mismatched pj's!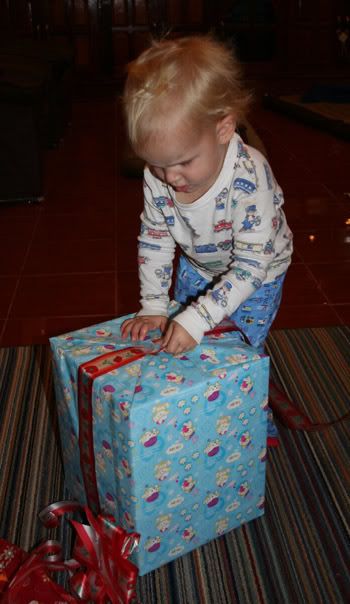 And this one is from a couple of days ago. Just because he spoted some candy high on a shelf and asked for it.
And I have news. We are expecting baby #2 in August 2007. Woohoo!

Sunday, Dec. 31, 2006 at 7:23 PM