Santa encounter

On Friday Jonas' preschool had a little Christmas party. All of the parents were invited. The highlight of the party was that "Papa Noel" or "Santa Claus" to those of us who don't speak French, came and gave a gift to every child.
I'm still struggling with my role as the non-French speaking parent in a sea of French speaking parents. Everyone looked really friendly but I was afraid to initiate conversation because I have zero French language skills. I saw another Frenchie mom in public the next day and she said "Bonjour" and I said "Hello"...I felt like she wanted to ask me some questions and have friendly small talk but knew I couldn't proceed.
Anyway, the Christmas party was still fun. Most of the kids are age 1-3, so predictably, when Santa showed up, about 50% burst into tears.
Jonas' first Santa sighting:

This really was the first time he has ever seen Santa Claus. There aren't that many running around Laos. You would be surprised.
Here he is cautiously approaching. Although he had to wait for Santa to call his name before he could go receive his gift.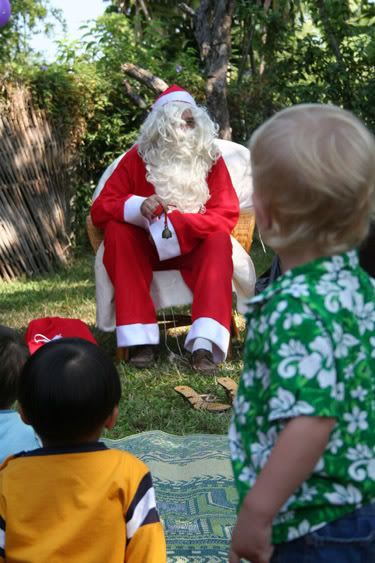 Then in this one you can totally tell he is just sitting in Santa's lap for the gift, and the gift ONLY. Note how his head is tilted AWAY from Santa.

So that was our Santa adventure. After that we had tuna sandwiches and fruit with the other parents and students.
Joyeux Noel!

Sunday, Dec. 17, 2006 at 10:39 PM