the day is nearing!

Jonas' birthday is on Wednesday.
We are having a party in playgroup on Tuesday, but it is also a going away party for one of the other kids so I didn't want his only birthday party to be a 2-for-1 deal.
We are having another party with mostly our grown-up friends on Thursday night, and a few friends of Jonas' who aren't in the playgroup. That will be the more elaborate party. We will have grilled shish-kebabs and I will make an elephant-shaped b'day cake. I hope it doesn't look like crap. I also bought little cheap gifts and wrapped each one to give to the party guests, instead of doing goodie bags.
We went to a b'day party for a 4-year-old last Tuesday and all of the kids were so sad sitting around watching her open gifts, because they didn't have any gifts. It was a pretty sad scene, you could read all of their little minds. So the playgroup kids will be getting little plastic toy cameras, and the "2nd party" kids will get little mini xylophones. I think that is my first time using the word "xylophone" in my diary.
I printed out 35 of these pictures for party favors for the "grown-ups".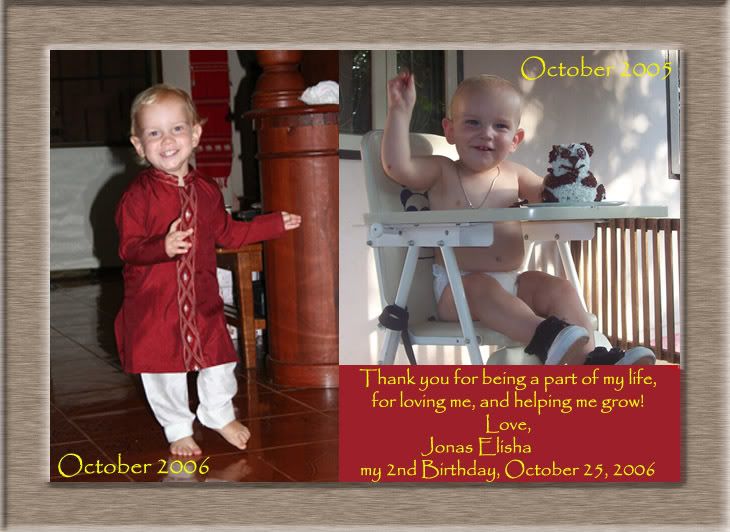 I'm not going to lie, I kind of want some people to get kind of misty-eyed when I give them these photos.
I have been wrapping up Jonas' old toys in newspaper so that he can rip them open and practice saying "thank you" after he opens a gift. I'm trying to be ready. I will be embarassed if he comes across as a brat.
If you look in the 2005 picture you will see the birthday panda cake I slaved over that J. didn't eat a single bite of. I think this year he will be more interested in the cake though.

Nick's mom is enroute to visit us as I type this. She will arrive on Monday morning, with birthday gifts for Jojo!

Saturday, Oct. 21, 2006 at 9:00 PM