I'm not Crazy

I actually got to sleep last night since Nick volunteered for night duty and I slept in the extra bedroom. I would really like for Jonas to have his own room instead of sleeping in our room, but guess what: the crib won't fit through the door of the spare room. Ain't that something? It is a locally made one and not dis-assemble-able. what did I just type?
I wanted to go to bed early tonight but I got sucked in to Diaryland. I was thinking that I wanted to share the high points in my day this time rather than the crap points.
One thing I was going to do was take a picture of one of my favorite foods in Laos and make all of you jealous.
Well.
I took the picture, but it turns out that fresh (not fried) springrolls are not at all photogenic. This photo was attempt number 5. I laugh at the unappetizey-ness of these photos. They sure are yummy in real life, though.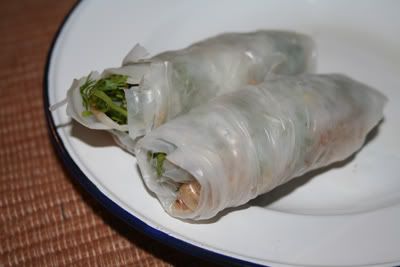 Another thing I like to eat are chocolate balls. Nick remarked that I should have taken a picture of some chocolate balls along with the springrolls. If you are visualizing the possible result, you will know why that was a sarcastic suggestion.
It was very hot today, and when Nick got home he gave Jonas a little faux-hawk with the sweat that had accumulated in is hair.
Our neighbor has a German Shepherd. I thought they were saying her name was "Hitler", because they pronounced it like "Hik-lurrrr", but it turns out they were trying to say "Killer". Anyway, Killer had THIRTEEN puppies today! Three of them died, but still, how horrifying would that be to have 13 children at one time! It almost gives me chills. No wonder she dug a surprisingly large underground tunnel to go lay in during labor.
Another random happy thought: when we were younger, my brother and I had this "make believe" alter-ego where he was a woman named Tina Ferrari. Lately we have been reminiscing about Tina Ferrari because he has told her story to some of our friends back home, and they have been e-mailing me with curious questions and requests for more detail. I did a google images search and found a "Tina Ferrari" picture.


This Tina Ferrari was in GLOW (Gorgeous Ladies Of Wrestling), the female equivalent of WWF which was on Saturday television circa 1988. I remember watching it. I remember alot of hair pulling in those matches.
I specifically remember one of the wrestling ladies was "Little Red Riding Hood" and she wore a red cape/hood combo. I wonder why female professional wrestling ever went out of style? Hmmm...

Thursday, Mar. 09, 2006 at 9:53 PM