Lightin' Up

Woohoo, Friday night! That means its time for me to par-tae! Except replace "par-tae" with "update my online journal". Hmm. For some reason I kind of feel like a loser now.
Anyway, I wanted to show off my Christmas spirit.


Huband putting lights up on our house: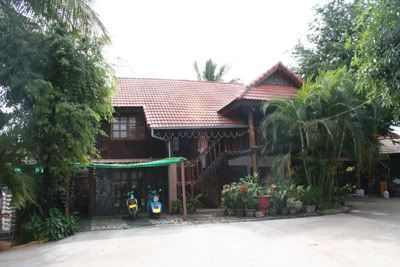 Behold! The best-looking house on the block! (and also the ONLY house decorated for Christmas).






Look in the bottom right corner and you can see little Jojo in his training pants staring up at the night sky.
We are probably the only house in Laos to put up lights outside for Christmas. In fact, when we put up the lights, the neighbors got confused and asked if we were opening a restaurant. The lights on top have different settings where you can have them spazz every 2 seconds, or in in a special rhythm. We set them on the one that we like, but when we go somewhere for the evening, one of the neighbors sneaks over and puts them on a more spazzy setting. I guess she likes the "casino" look. Sneaky devil!
ckb





Friday, Dec. 09, 2005 at 9:10 PM