RATS!

My life this week:
Nick is out of town until Saturday on a golf trip. Jonas has a runny nose. He isn't sleeping very well. He feels bad, so he is really clingy to me right now. I guess it doesn't matter that Nick is out of town, since Jonas only wants me. He even whined today when one of the neighbors wanted to play with him. He normally likes the neighbors.
Last week it actually got cool enough for me to dress Jonas in a jacket.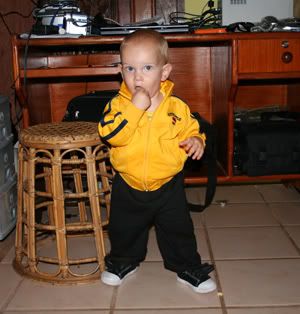 I love that little jacket. That outfit makes him look like he is about to bust out with a breakdancing move.


This is a picture of Jonas when he was standing on top of a wooden bench and dancing to some music on his toy electric guitar. As you can see, he was clapping along. The nanny and I were sitting on the ground being adoring fans. Nick was taking pictures (papparazi).




In not-so-cute news, we have a rat problem. If you didn't know, rats can chew through tupperware. Isn't that disgusting? This week, the rat has eaten (or at least bitten through):
1 tube of chocolate icing
3 tupperware containers
1 bag of rice
1 home made oatmeal cookie (curses!!)
1 potato
1 package of miso
1 package of Genki (seeds and stuff you sprinkle on rice for protein)
And there are also teeth marks on Jonas' "1" candle from his birthday. But I can't be sure it wasn't Jonas biting it. He bit me today, actually. Better him than the rat, eh?

Tuesday, Nov. 29, 2005 at 9:29 PM