The Birthday Continues!

Today was Jonas' Birthday Party Extravaganza! It turned into a block party. Over 100 people came. Yes I am serious. Over 100 people came to a 1-year-old's birthday party.
When I first arrived home from teaching, approximately 1 hour before the party was scheduled to start, there were already about 25 people there. I felt a little freaked out, but I channeled their idleness into helping me do everything. So I only had to blow up 1 baloon out of about 50.


Everyone played with Jonas while I got food ready.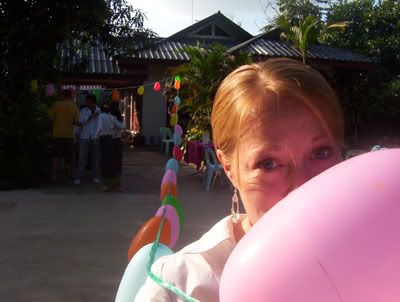 My friend Kelly blowing up baloons and stringing them up over the driveway. I really like the sense of depth in this picture and also the sunlight is cool on her hair. Kind of like that BeachBoys song "Good Vibrations". "I. I like the colorful clothes you wear. And the way the sunlight plays upon your hair..."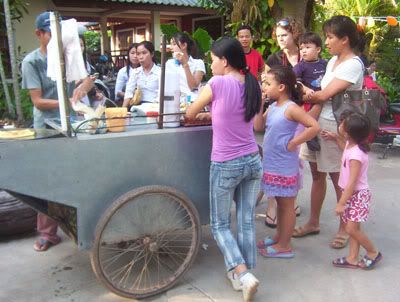 We hired a man to make banana roti for all of the party guests. He was extremely popular. By the end of the party, he had made 90.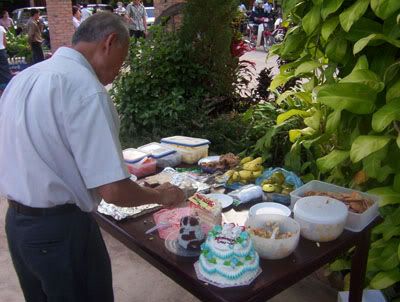 Lots of guests brought food to share, so that lessened my stress. I think about 3 unexpected cakes showed up.


But these are the three cakes that I made. That is me in the purple shirt barking orders as my friends help me bring the cakes out of the house.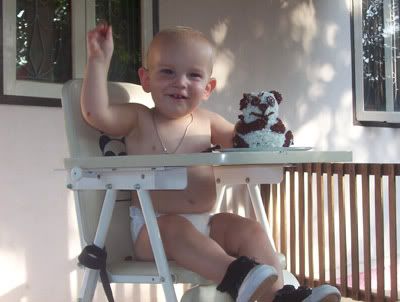 I made Jonas this special little panda cake all for himself. It took a long time to make, and I expected him to go all crazy mashing it up, but he just kind of petted it and picked at it. He licked a little icing off of his fingers. The necklace he is wearing is some *bling bling* he got for his Birthday from the landlady. It is elephant bling.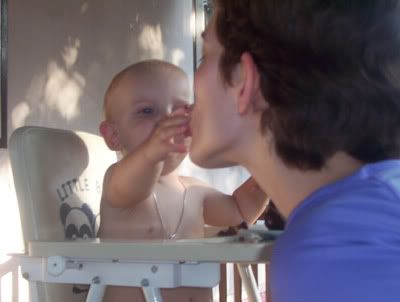 Then I thought maybe if I get him to feed it to me, he will recognize it as food and perhaps eat more. My plan didn't work. I guess we don't eat alot of cakes around the house. Maybe he didn't know what to do with it.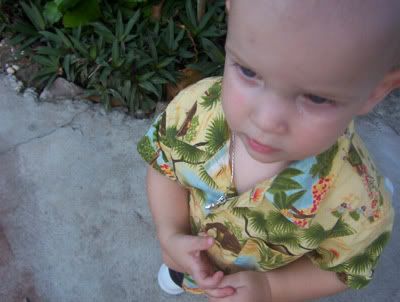 Jonas got sweaty.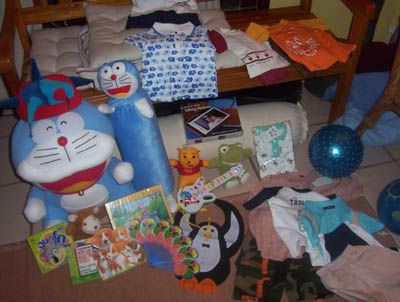 This is the loot. 1 excessively huge Doreamon (popular Asian cartoon) stuffed animal, one Doreamon pillow, 1 jester hat, 3 books, 1 500 piece puzzle (obviously someone has never been around a 1-year-old), 1 "talking photo album", 2 balls, 1 plastic electric guitar, 1 penguin bib, 1 folding fan, 3 small stuffed animals (dog, frog, and pooh), 6 pairs of shorts, 7 shirts, 1 set of pajamas, and a silver braclet that says "Laos".
Quite a haul for the little man. I don't even think he realized he got any gifts. He actually fell asleep before the party was over, and then I opened his presents for him after he was asleep.
Hopefully we wore him out enough to sleep through the night tonight.
I don't know what we will do next year to top this one.

Monday, Nov. 28, 2005 at 9:34 PM